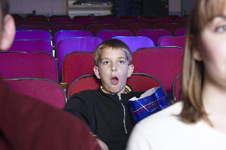 When: Currently On Hiatus
Where: At the BrickHouse then Cinemark 8 in Provo
Who: No one for the moment (Sad)

Every Wednesday night we like to get together at the Provo Dollar theater and watch a movie. It's kind of an open event that everyone is invited to. We usually all meet up about 8pm at the white house for dinner before heading over to the movie. Join us for dinner and a movie. Dinner is provided free by Gary and Myself, we like to cook but feel free to contribute a few bucks. There's a hat for it. How You can Contribute:
The easiest way to contribute is just to vote! There's always a vote running in the sidebar. Another way to contribute is do movie night writeups. At the bottom of this page you can see a link to every movie night writeup thus far created. To do a movie night write up just create an account and let me know that you would like to be able to contribute to the writeup section. I'll boost your account level access to be able to write there. For more information on how to do a movie night writeup just follow this link.
---
Movie Night