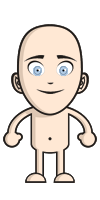 You can not tell me that this doesn't look like Justin. Maybe the eye color is off but it's pretty much his spitting image.
Speaking of dopplegangers, I sort of hate all the sites they have these days to make "avatars." "Using advanced asp, java, flash or whatever you can make your own avatar!" I've actually had the technology to make my own avatar for years, its called mspaint. You're not limited to a set of different character traits, instead you can make whatever you want! I'm not the only one either just search flickr. There are some real gems.
If only we would all have awesome icons such as this one pictured below.
---
What a wonderful world it would be.
An Internet Doppleganger?